PSM Consulting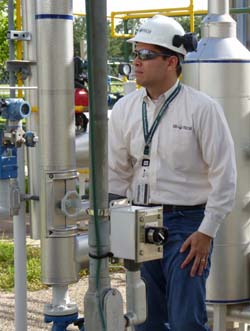 We simplify compliance with IEC 61511 and ANSI/ISA 84.00.01-2004 by integrating the functional safety management requirements with proven project management processes. SIS-TECH backs these work processes with highly experienced personnel that address your safety, environmental, asset protection, and business interruption risks and that helps you achieve your reliability, operability, and maintainability goals.
With common values, complementary strengths and a customer-focused approach, SIS-TECH provides you with critical expertise that we have gained from executing projects in similar chemical processes at other companies. There are many different ways to achieve compliance with the standards – some good and some bad. We can share with you our lessons learned and help you avoid pitfalls that can affect your process performance.
Whether you need assistance with implementing management systems, assessing process hazards, or defining risk management strategy, SIS-TECH's distinct approach yields more cost effective solutions.
Call SIS-TECH for assistance with any of the following:
Auditing
Auditing is simply an activity to determine 1) whether you are doing what you need to do and 2) what you said you were going to do. Auditing requires an independent person from the process unit management, having experience and knowledge related to your process risk, safety instrumented system (SIS) design, and operation and maintenance practices. The audit should establish a path forward for addressing deficiencies and improving reliability. SIS-TECH provides personnel who have field experience in the operation, maintenance, and testing of SIS. These personnel understand the intent of ANSI/ISA 84.00.01-2004 (IEC 61511 mod), as well API, NFPA, and ASME standards, and have extensive experience in applying these standards at chemical, petrochemical, and refining companies.
Auditing provides a level of assurance that the SIS is designed, installed, maintained and tested to yield the target safe and reliable performance over the SIS lifetime. The audit program is custom tailored to your needs, reviewing SIS design basis documents, function test plans and results, and management of change controls. The audit may be a simple review of detail design project documentation to verify that the design is meeting the intent of the Hazard and Risk Analysis (H&RA) and the design basis, or it may be a multi-layered audit of the existing SISs.
Safety integrity level (SIL) verification
The safety integrity level (SIL) or the average probability to fail on demand (PFDavg) of each safety instrumented function (SIF) is determined to ensure that each SIF achieves the risk reduction allocated during the process hazards analysis. Since the spurious trip potential can have a significant effect on the lifecycle cost of the SIF, we also determine and consider the spurious trip rate.
Methodology: The verification is performed by modeling each SIF using fault tree analysis, which is a highly adaptable logic diagram based technique.
Software: Fault tree analysis is used to calculate the PFDavg and the spurious trip rate of each safety function. The calculation is performed using a SIS-TECH proprietary software tool, SIL Solver™, or Isograph FaultTree+, depending on the complexity of the safety function.
Databases: The SIS-TECH proprietary database will provide all failure rate data.
Process Requirements Specification
At the conclusion of the PHA (or H&RA), a risk mitigation strategy must be defined to address risk identified in the PHA or other analysis. The PHA often generates many recommendations that must be reviewed to determine whether the recommendations provide the most cost effective and reliable way to mitigate the risk. Further, the PHA focuses on mitigating individual risk, which can lead to excessive safety instrumented system (SIS) requirements. Risk should be mitigated with an overall risk mitigation strategy that takes into account your reliability, operability and maintainability needs. Our approach is to achieve the lowest cost of safe automation by providing you with a mitigation strategy to minimize your risk but maximize your production.
SIS-TECH provides technical personnel, such as process and I&E engineers with extensive end-user experience. We like to think that "we've been there and done that," due to our large customer base and our personnel's previous work history. If you have a problem that needs to be solved, we probably have seen and implemented multiple approaches. Our consultants can help you choose a solution that meets your facility's needs.
The first step of the Independent Protection Layer (IPL) reconciliation phase involves a review of the PHA (or H&RA) results with your personnel to ensure that we understand the needs of your production process. Our senior consultant then works with your personnel to develop a solid risk mitigation strategy that builds upon the PHA team results, while considering the following:
Minimizing changes to the existing SIS,
Reducing capital cost associated with new protection layers,
Reducing required testing intervals, and
Optimizing process reliability.
The senior consultant generates a report providing the PHA reference number and the specific response to each recommendation. This provides the necessary management of change documentation.
Gap Analysis
Compare your lifecycle management procedures and execution with Instrumented Safety Systems best practices and the requirements of ANSI/ISA 84.00.01-2004 (IEC 61511 Mod). SIS-TECH's comprehensive knowledge and hands on experience with all types of Instrumented Safety Systems lets us help you rapidly ascertain the areas where your ISS lifecycle management is satisfying the intent of industry practices and the areas where gaps or deficiencies exist. Depending on the desired areas of coverage on your site we can tailor a visit to help one area, department, or the entire site. After the visit we can help you develop a plan of action to close existing gaps in the most efficient manner.
Process Hazards Analysis (PHA) Facilitation
SIS-TECH provides technical personnel, such as process and I&E engineers, to facilitate your Process Hazards Analysis (PHA) team. Our personnel understand chemical engineering and control system design practices. The PHA is conducted using any method acceptable to you, such as brainstorming, what if/what if checklists, Hazard & Operability (HAZOP) studies, and layers of protection analysis (LOPA). If you do not have established procedures, we can help you with that or we can use our "proven-in-use" methods. SIS-TECH "proven-in-use" methods meet the intent of government and industrial standards. Our LOPA method, in particular, fulfills the intent of ANSI/ISA 84.00.01-2004 (IEC 61511 modified) and is consistent with the Center for Chemical Process Safety concept book, Layer of Protection Analysis: Simplified Process Risk Assessment. When a SIS-TECH method is used, the procedure is reviewed with a representative of your company to ensure that the procedure adequately represents your risk management philosophy.
No matter what PHA method is chosen, the work process that we follow is similar:
Process deviations from normal operation are discussed
Initiating causes of process deviations are identified
Initiating cause frequency is determined
Likely consequence of each initiating cause is evaluated and categorized by severity
Various types of impact are examined, such as personnel and community safety, environmental damage, asset protection or business interruption
Once the initiating cause frequency and consequence severity are known, the risk can be compared to the risk criteria to determine whether safeguards are needed to mitigate the process risk
If available safeguards are insufficient to mitigate the risk, the team makes recommendations for improvements
These recommendations are prioritized based on the level of risk remaining after applying existing safeguards
The activity of PHA Facilitation includes advance preparation of documentation to optimize the efficiency of the study. The process unit is divided into appropriate study nodes with notation of the design intent for each study node. A tentative list of pertinent deviations or question is also developed based on chosen methodology to most effectively use your personnel's time. Our goal is to minimize the amount of time your personnel are involved as a team while adequately assessing the mitigation of the potential process risk.
H&RA Policies and Procedure
A thorough Hazard and Risk Analysis (H&RA) is the first and most important step in the SIS lifecycle. The H&RA encompasses many different types of risk analysis, such as process hazards analysis (PHA), layers of protection analysis (LOPA), quantitative risk assessment (QRA), and consequence modeling. SIS-TECH works with your personnel to develop H&RA policies and procedures and provides trained facilitators for study execution. Once completed, our consultants can review the H&RA results to define an overall risk mitigation strategy that provides the necessary risk reduction, while meeting the reliability, operability, and maintainability requirements of the process unit.
To achieve a consistent, quality output from the H&RA phase, you should consider the following:
Development of a clear statement of the risk criteria for various types of process hazards
Documentation of policies and procedures to assess and respond to identified process risk
Identification of resources required to execute these policies and procedures
Implementation of an audit process to evaluate compliance to policies and procedures
With so many analysis options, it can be difficult to determine what methods are appropriate for various types of risk. Many risk assessments employ high level, qualitative techniques with worse case scenario assumptions, leading to similarly conservative and costly design. Assessing all risk by a quantitative technique is generally not practical, because limited resources are spent executing rigorous methods on potentially low risk events. SIS-TECH works with your personnel to develop an overall work process, using your existing process hazards analysis (PHA) methodologies, to screen risks for review using more rigorous techniques. This process provides a means to sieve through process risk, to identify high risk areas, and to deploy the latest analytical techniques. By reducing uncertainty in the assessment, investment in instrumented systems, especially the safety instrumented systems (SIS), for risk mitigation can be examined more realistically.
Management system policies and procedures
Quality design is achieved in an environment that fosters a safety and reliability-focused workforce. All successful quality programs have one thing in common: a documented management system with defined metrics for monitoring and improving performance. SIS-TECH can provide consultants to build policies and procedures, to train your personnel, and to implement a protective management system for a specific site or for an entire company.
The SIS-TECH approach fulfills the intent of the ANSI/ISA 84.00.01-2004 (IEC 61511 modified) for new facilities. It also fulfills the documentation and procedural requirements for existing facilities by including a method for documenting that the systems in place provide the required risk reduction, fulfilling the "Grandfather Clause" requirements. We know our work fulfills the intent of the standards because we were there when the standards were developed, listening to the concerns of the various parties and participating in writing the clauses. We chair the committees and help write the technical reports. We author papers and books and teach training courses all over the world. Our methodologies are proven-in-use.
SIS-TECH works with your personnel to tailor a protective management system that meshes with your existing project and risk management philosophy. Each procedure includes the following:
Scope
Applicability
Identification of key skills and resources, including responsibilities
Work process including key requirements
Expected documentation
Change management process
Audit process to evaluate compliance to procedure.
The following policies and procedures are generally established:
Policy Concerning Risk Criteria
Policy Concerning the Management of Existing Safety Instrumented Systems
Hazard & Risk Analysis Procedures with Software
Outlining Use of Risk Criteria and Process Hazards Analysis Methods
Identification of Safety Instrumented Systems (SIS)
Assignment of Safety Integrity Levels (SIL)
Process Engineering and I&E Design Guidelines for Safety Instrumented Systems
SIL Verification Procedure with Software
Data Collection and Analysis Process
Management of Change Procedures