Overview
Prior to the emergence of the safety instrumented systems (SIS) standards, SISs were simply developed based on an engineer's perception of required performance.  Now the lifecycle brings a new focus to this perception by establishing the link between the SIS requirements and the process hazards analysis (PHA).  The lifecycle begins with the initial PHA and continues through management of SIS changes.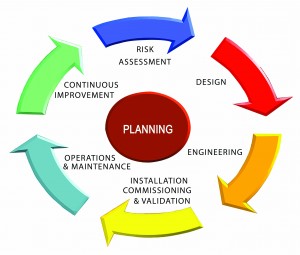 The target integrity levels and basic design assumptions are documented in the safety requirements specification (SRS).  All conceptual and detailed design decisions must fit within this boundary.  Final verification of the target integrity must be performed through a combination of quantitative or qualitative techniques.   Thus, the lifecycle uses the SRS as a change management tool.
Prior to start-up, full functional testing must be carried out to ensure the integrity of the entire SIS installation.  Once commissioned, the SIS must be operated, maintained, and tested to preserve the design integrity.
SIS-TECH SOLUTIONS offers full lifecycle services to users, engineering contractors, and insurers from on-going consulting services to complete SIS lifecycle implementation.  Our experience covers chemical, petrochemical, refining, offshore production, steel, and power.