Hardware Solutions
The DIAMOND-SIS® is designed as a low-cost, stand-alone, non-PE logic solver for process industry applications. Rated for –30C to +75C and constructed using Class I Div II components, it can be installed in the process unit near the equipment under control, even under the harshest of conditions, thereby reducing implementation costs.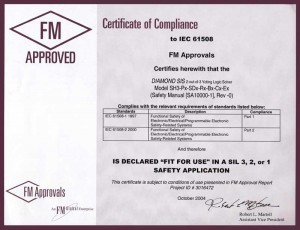 DIAMOND-SIS® provides high integrity and process reliability. It is available in single, dual, and triplicated channel configurations with on-line diagnostics, testing, and maintenance facilities. The single and dual channel systems are acceptable for SIL 2, while the triplicated channel system is certified by Factory Mutual to SIL 3. This means that the DIAMOND-SIS® can meet the fault tolerance and PFDavg requirements of any application.
Each channel receives an analog or digital process signal. Two field-adjustable setpoints allow shutdown to be executed for high and low process signals. Serial or hardwired communications are used to remotely display process variables and system alarms. With its 5 Amp output rating, the system can de-energize multiple final elements, including motor control circuits and/or solenoid operated valves. Manual reset, local or remote, ensures controlled process re-start after shutdown. Manual ESD, using a local or remote emergency shutdown button, can be supplied. System power is 24VDC, 110VAC, or 240VAC; and the DIAMOND-SIS® can be provided with redundant power supplies and/or UPS.
The DIAMOND-SIS® is designed to make testing as simple as possible. Test procedures are supplied with each system. By simulating the process variable signal, the trip circuit can be function tested from input to output. Each channel has a dedicated status indication on the front-panel to make testing and troubleshooting easy. The single channel package is provided with a bypass switch so that testing and maintenance can be performed online. The dual and triplicated channel packages do not require a bypass for testing or maintenance, but they can be provided as an option.
The DIAMOND-SIS® design allows repair/replacement of the trip modules without disconnecting wiring, reducing the potential for errors during maintenance.
The Safety Requirements Specification, including Safety Integrity Level (SIL) verification documentation, can be supplied as an option. This makes the DIAMOND-SIS® the perfect packaged solution to address low I/O SIS needs.
SOLUTIONS